Activists Across the State are Energized to #SaveRoe and the Supreme Court
When the President selected his second nomination to the Supreme Court on July 09, we knew the fate of reproductive rights was on the line. People across the state were ready to take action!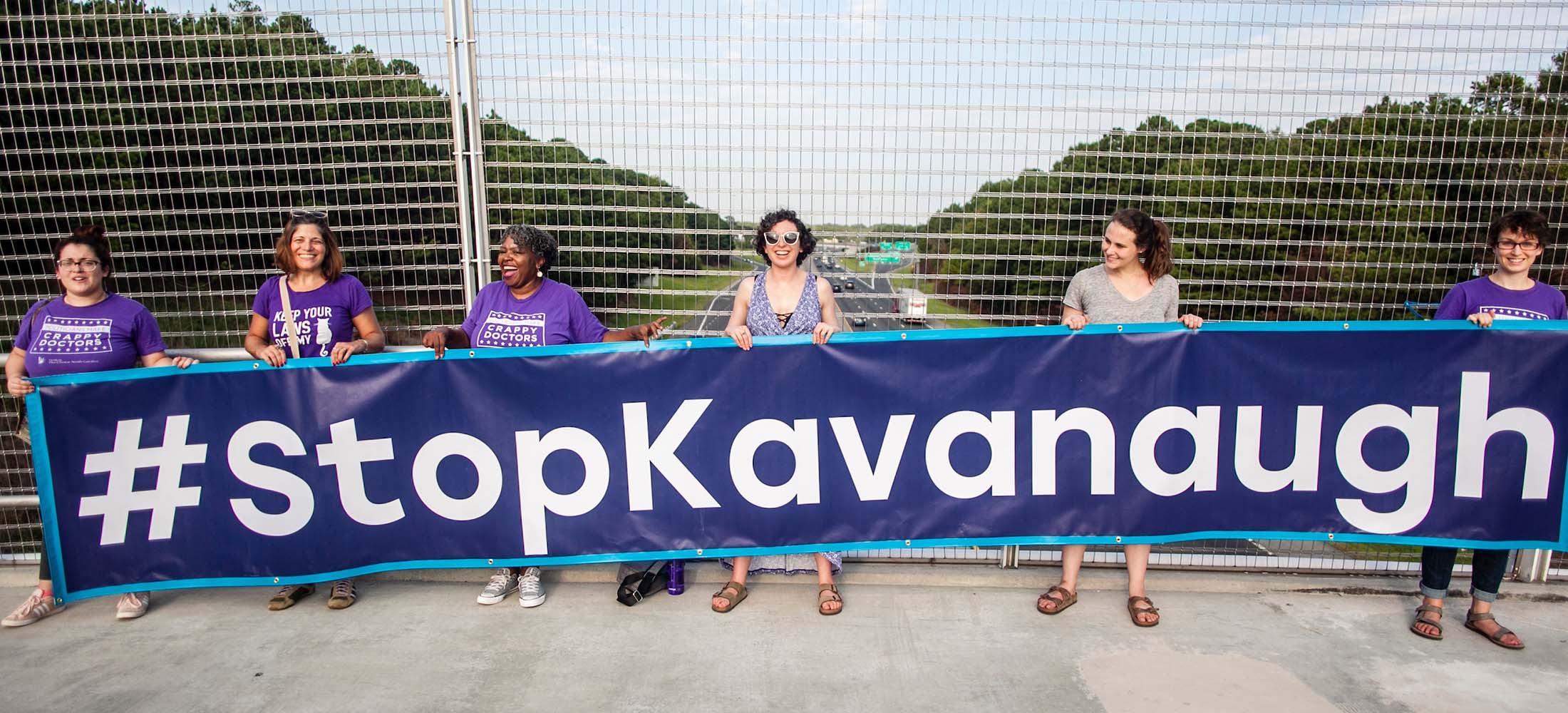 On the first day of Senate Confirmation hearings (September 04), we worked with partners to organize #StopKavanaugh rallies at Senate offices across the state. Supporters gathered at Senator Burr's offices in Asheville (on September 05) and Winston Salem; and at Senator Tillis' offices in Charlotte, High Point and Raleigh. Advocates spoke of the threats to the environment, health care, gun safety legislation, civil rights, abortion access, reproductive rights, workers' rights, and immigrant rights. We were joined by partners Action NC, Carolina Abortion Fund, El Pueblo, Equality NC, MomsRising NC, NC AIDS Action Network, Planned Parenthood South Atlantic, the Sierra Club; and grassroots organizations like Move On, Indivisible Guilford County and Tuesdays With Tillis. Thank you to everyone who came out to demand we #SaveSCOTUS!
August 26, Women's Equality Day, was a National Day of Action to #StopKavanaugh. Activists in all 50 states held over 200 events, in the largest single-day protest of a Supreme Court nominee. In North Carolina, reproductive freedom activists held a panel and speak out in Greensboro; a postcard and letter-to-the-editor writing party in Charlotte; and did a banner action in Durham over Interstate-40. (Note: NARAL Pro-Choice North Carolina supporters have sent over 920 postcards to Senators Burr and Tillis since the #StopKavanaugh campaign began!)
Throughout August, we teamed up with partners Action NC, the Carolina Abortion Fund, Equality NC, North Carolina AIDS Action Network, the North Carolina Justice Center, NC National Organization of Women, Planned Parenthood South Atlantic, Progress NC, and Working America to bring #SaveRoe #SaveSCOTUS town halls around the state. We know reproductive freedom advocates across the state are – rightly – concerned what a second Trump appointment to the Supreme Court could mean for access to birth control, abortion and prenatal, maternal and postnatal/postpartum care. Judge Kavanaugh has already dissented in an abortion case, declared anti-choice employers can deny birth control to their employees, and stated he is against the Affordable Care Act (you can read more details on this here).
We held town halls in Charlotte, Greenville, Asheville, Winston Salem and Raleigh. Our Executive Director was on the panels in Charlotte and Greenville, a past board member was on the panel in Asheville, and a past campus leader was on the Raleigh panel. Thanks to everyone who came out, and signed postcards to our Senators!